About Us
We make local lifestyle clothing and accessories focused on bringing people together. Family, Peace, and Hope for future generations is what we represent.
"Only spread a fern-frond over a man's head and worldly cares are cast out, and freedom and beauty and peace come in."
-John Muir, Father of the National Parks
Who We Are
Nimble Fern holds the humble belief that we're all in this together. Whether you're a transplant or born and raised, you're a part of the Pacific Northwest family. We started Nimble Fern to promote family, peace, and hope for future generations.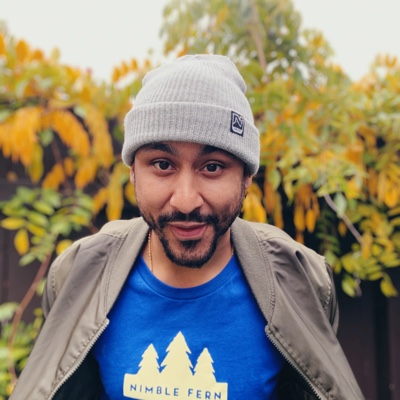 Halston Williams
Founder, and lead designer
Portland, Oregon-born Halston Williams is inspired by his incredibly supportive family and experiences growing up in the city. His father, also an artist, encouraged his artistic expression by practicing his illustration and painting skills alongside him through childhood. As Halston progressed through life, art remained at the forefront of his priorities and defined his identity to his core. The freedom provided by creative expression drove Haltson to start Nimble Fern.
Halston's passion for creativity and the Pacific Northwest fuels his art and dedication to Nimble Fern. With family always at the core, he developed the name "Nimble Fern" by sitting down with his family and brainstorming words they collectively feel define who they are and what they stand for. He believes that much like the Pacific Northwest he loves so much, Nimble Fern will continue to evolve and grow.